Communication is at the center of most businesses.
Whether it's communicating with customers to help resolve service-related issues or fielding IT requests from employees, most businesses eventually need some way to manage those conversations.
One of the best ways to do that is with help desk software.
What is help desk software?
Help desk software is a tool used to organize, manage, and respond to service-related requests. Some help desks are used for external requests from customers, whereas others are used for internal service requests from team members.
Help desks may include a variety of tools like a shared inbox, knowledge base software, and a live chat solution. However, not all help desks include all of the tools mentioned.
Using a help desk platform is a great way to improve your customer experience — 75% of customers desire a consistent experience, regardless of how they engage a company (through social media, in person, by phone, etc.) — because it consolidates all of your customer support interactions into one omnichannel tool.
The 11 best help desk software for 2022
In order to begin your search, it helps to know at least some of your options. Below is a list of 11 of the best help desk software solutions on the market right now.
Help Scout
SysAid
Hiver
Freshdesk
Jira Service Desk
Zendesk
Zoho Desk
Front
Gorgias
Kustomer
Spiceworks
Best help desk software for teams who prioritize customer satisfaction.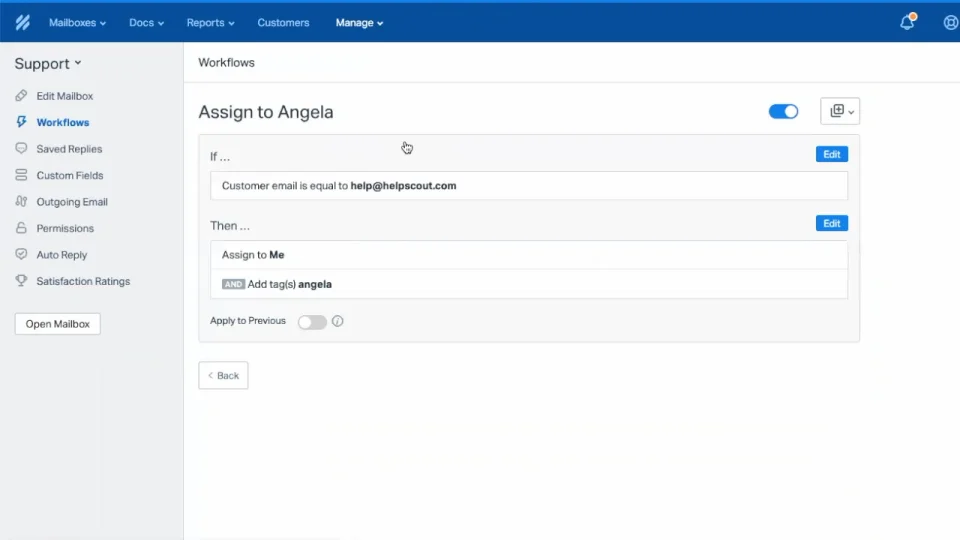 Help Scout is a complete customer support platform that includes every tool you need to deliver an outstanding customer experience. When you sign up for Help Scout, you get access to a number of tools.
Shared inboxes
Help Scout's shared inboxes include collaboration tools like @mentions and private notes to ask others for help or to add more context to a customer conversation.
There's also collision detection to reduce duplicate work and workflows to automate routing and routine tasks.
Finally, saved replies make responding to routine customer queries a breeze.
Knowledge base
With Docs you're able to create, manage, and organize self-service content.
The WYSIWYG editor makes content creation a breeze. You're also able to upload videos, images, and other types of content directly to articles or embed videos to create even more robust self-service content.
Performance data helps you see which articles are performing best, which ones could be doing better, and what content you should create next.
Live chat
Help Scout's live chat widget, Beacon, is a multi-use tool that includes live chat as well as proactive support options through Messages.
The live chat function has online and offline options to help customers find the answers they need when and where they need them.
With Messages, you're able to segment audiences based on specific customer attributes, schedule messages, and even see performance data to help further refine your efforts.
Reporting
Help Scout comes loaded with pre-built dashboards so you're able to see how your team's performing right away. You can also create custom reports that focus on the metrics of your choosing.
If you want to do even more with your data, our API lets you export to the business intelligence tool of your choosing.
Customer profiles
Customer profiles are automatically created for customers you've interacted with through Beacon. They show basic information like their company, their role, and any previous interactions you've had.
You can edit and update customer profiles any time, ensuring all information is up to date and relevant. You can even automate the updating process by adding a few lines of code to any Beacon implementation.
Mobile apps
Finally, Help Scout offers mobile iOS and Android apps for teams who need notifications on the go or to resolve customer issues while they're away from their desktop machines.
Though Help Scout's features, which are all accessible via an intuitive, customizable interface, are impressive, we think our best asset is our world-class support team that is ready to help out 24/6. We also have an extensive knowledge base for those who prefer self-directed learning.
Price: Starting at $20/user per month.
Learn more about Help Scout:
Best help desk system for ITSM.
SysAid is a help desk ticketing system that manages internal IT requests. They offer a number of SLA management features like ticket and workflow automation to reduce SLAs. You can also build a self-service portal for knowledge management so employees can handle basic requests like password resets on their own.
You're able to get things going quickly with a host of templates and default forms, or you can create your own custom ones to best serve the needs of your organization and your team. Since most IT tools are used in conjunction with one another, you also get access to a number of third-party integrations.
SysAid has powerful asset management features that make it easy to manage all of the assets in your network and see hardware and software for each of your end users.
Price: Contact SysAid directly for pricing.
Best basic help desk for small businesses.
The best way to think about Hiver is as an extension to your Gmail account. With it you're able to do things like leave internal notes on conversations and even assign conversations to specific agents.
Hiver also gives you access to some reporting to better understand team performance and gain insights into the common reasons customers reach out.
It is worth noting that Hiver doesn't include any additional tools beyond a shared inbox like most of the others on this list, which may limit its ability to scale with your team. Also, some basic features like reporting are only included on their higher-cost plans.
Price: Starting at $12/user per month.
Recommended Reading
Best support software for call center support.
Freshdesk is a multi-use help desk that's good for larger teams, especially those in a call center setting.
When you sign up, you get access to tools like a shared inbox, a knowledge base tool, and chat capabilities for managing support requests. You also get an allowance of incoming minutes to handle customer phone calls (the amount of minutes varies based on the specific plan you choose).
You also get access to some third-party integrations to keep your support tech stack connected. Though powerful, Freshdesk's pricing/plans do get a little confusing as there are a number of optional add-ons. Also, the features we mention above are only available on their higher-tier omnichannel plans.
Price: Free plan available. Paid plans starting at $15/agent per month.
Recommended Reading
Best ticket management system for escalation and incident management.
Jira Service Desk is generally associated with engineering teams, but it does come into play for a lot of support teams as it's a common place for them to report and track bugs.
Users are able to create custom workflows and forms to make sure projects run smoothly, and they can assign statuses to certain tasks to keep everyone involved informed. Reports can give support reps insights into what's being worked on and the overall workload, giving further context to bug-tracking and requests.
Price: Free plan available. Paid plans starting at $7.50/user per month.
Teams looking for more of an IT service management solution might also want to consider Jira Service Management. As a PinkVERIFY certified software, it provides you with tools to manage service requests, change management, and incidents in one platform. Jira service management uses the Information Technology Infrastructure Library (ITIL) set of best practices.
Best help desk software for enterprise teams.
Almost anyone working in customer support has heard of Zendesk. They make a multi-channel support solution that includes features like a shared inbox, a knowledge base, and live chat tools.
Along with those, they also offer some more advanced AI-based solutions for chatbots and autoresponders (though those are only included on their higher-cost plans).
You also get access to a host of productivity and automation features, as well as over 1,000+ integrations to connect with other tools in your support ecosystem. To be honest, there's not a lot Zendesk doesn't do or many communication channels it doesn't cover.
However, the flip side is that it's a very complex and complicated product that requires a lot of time, energy, and resources to get up and running.
This adds substantial additional costs on top of the monthly rate, and since most teams don't need access to all the features Zendesk offers (do you really need to run those community forums?), it's very possible they could find a solution with what they need for less money.
Price: Starting at $19/agent per month.